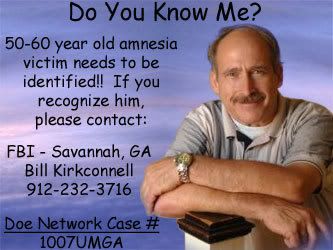 I know that a few times throughout life I've thought how great it would be to have the chance for a new start in life, but after reading this story, I must say....I've changed my mind! Unfortunately for Benjaman, he can't change his mind, he can only continue surfing through websites of the missing, in hopes that he soon discovers who he really is!
Benjaman Kyle
From
Wikipedia,
the free encyclopedia
Jump to:
navigation
,
search
Benjaman Kyle is a pseudonym adopted by a man who is suffering from
amnesia
. He was discovered unconscious on
August 31
,
2004
, behind a
Burger King
in
Richmond Hill, Georgia
.
[1]
He is believed to be in his 50s or 60s and has memories of living in
Indiana
and
Colorado
.
[2]
Unable to obtain employment without a social security number, as of November 2007, continues to search for his identity.
[3]
He doesn't know where he's been and he doesn't know where he's going.
He has no name.
He doesn't know his birth date.
He has no home and no job.
He's been called a vagrant, a bum and John Doe.
He wishes he knew more to counter those accusations, but he can't remember anything.
He calls himself a "real live nobody."

I've found some excellent photo comparisons as well as a lot of hard work in trying to help identify Benjaman on:
Websleuths.
Side By Side Photo Comparison Thread
Discussion Thread
Mr. Kyle's Memories
(Also, thank you Websleuths for the banner of Benjaman Kyle...it will be on Myspace by the end of the day!)
The plan for the NamUs system was to cross reference the missing and the unidentified deceased. A Living Doe was a unique scenario that would require a bit of planning. But never fear…we do intend to include any current or future Living Doe into the NamUs system. I have to wonder if that will be the magic bullet for the Kyle case?
Sleuth The Truth