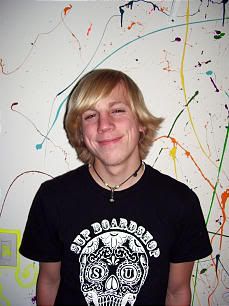 September 3rd, 2008 will mark one year. One year of family and friends searching for
Chris Coan
. One year of wondering where Chris is, and how he is doing.
One year of family and friends having many questions, with few answers.
Have YOU seen Chris Coan?
Vital Statistics at Time of Disappearance
Missing Since: September 3, 2007 from Enoch, Utah
Classification: Endangered Missing
Date Of Birth: August 6, 1989
Age: 18
Height: 5'5"-5'6"
Weight: 125 lbs.
Hair Color: Blond
Eye Color: Blue
Race: White
Gender: Male
Distinguishing Characteristics:
Slender build, beautiful eyes, shoulder length hair.
Medical Conditions:
Suffered a head injury as a child;impedes his ability to focus at times.
Clothing: Green t-shirt, black corduroy pants.
AKA: "Chris"
Details of Disappearance:
Chris left the Subway sandwich shop in Enoch where he works at 8:15 on Monday night, September 3, 2007. He did not go home, and no one has seen him since. Chris' live-in girlfriend, reported him missing the following day. His car, a 1994 red and silver Chevrolet S-10 Blazer, license number 78596, is also missing. Police have conducted both ground and aerial searches, but they have been unsuccessful. When investigators searched Christopher's workstation at Subway, they discovered a piece of paper on which he had written the numbers "208," which police believe may be part of a phone number; however, it is unknown if it's an area code or the first three digits of a number. "208" is the area code for Idaho.
A truck driver reported seeing Chris' truck on September 8, 2007 at a Sinclair gas station near Park City, Utah. The truck driver was able to accurately describe his truck, including three stickers on the back window. One says "The Wizz cartoon," another says "Jerry Bear," and the third says "Beatles." Unfortunately, the security cameras at the gas station weren't all in working order, so the sighting cannot be confirmed. The location is approximately 246 miles from Enoch.
Chris enjoys reading, and doesn't watch a lot of television. He had little, if any, money with him, and there has been no activity on his bank account.
If you have any information concerning this case, please contact:
Enoch Police Department Officer Browning (435) 586-9445
Website:
FindChris
Myspace:
Find Chris

NEW PIC of Chris Coan HERE