Reporter: Mark Havnes
Updated: 04/09/2009
Cedar City » The body of a Enoch teen who disappeared in 2007 was found Wednesday in a car that apparently rolled down a cliff.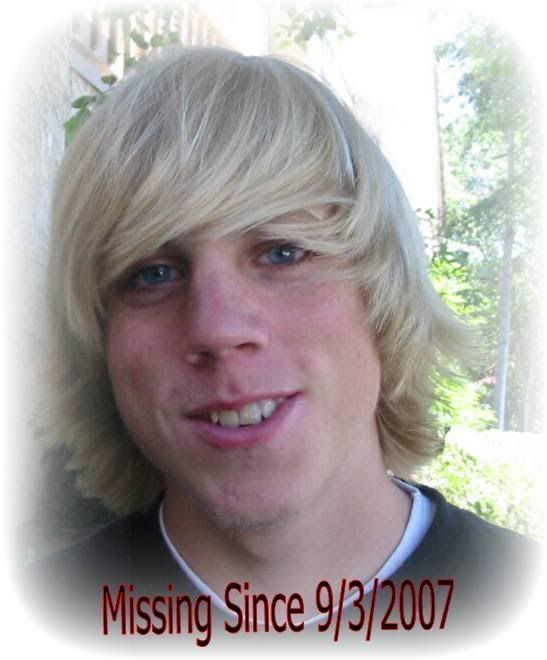 The body is believed to be that of 18-year-old Christopher Robin Coan.
A man was searching for his dog in Right Hand Canyon about 7 miles east of Cedar City when he came upon a wrecked car and informed the authorities. Searchers reached the car early Thursday and found one body in the car, said Enoch Police Chief David Browning. Clothing on the body matched descriptions of what Coan was wearing when he disappeared Sept. 3, 2007, after leaving a Subway sandwich shop in Cedar City, Browning said.
The vehicle identification number on the wrecked maroon and silver Chevrolet Blazer matches Coan's car, Browning said.
The car was about 1,500 feet from the winding mountain road, Browning said.
Browning said Coan's family has been notified. They were shocked but hoped the news would bring closure, Browning said.
Law enforcement and Coan's family have been searching for him since the night he disappeared. Search teams combed Iron County's many canyons and wide back country. Enoch police pursued tips from the pubic -- all of which appear to have been false.
One tip said Coan and his Blazer were at a Park City gas station a few days after his disappearance. An animal control officer in Silver City, N.M., thought she spotted the Blazer there.
Memorial
******************************************************************
Chris Coan search passes year mark
Anna Cole
Issue date: 9/15/08
Although the trail is cold, and has been since December 2007, the search is still alive, private investigator Marquita Davis said.
Davis said she has followed tips in New Mexico and Colorado which led to nothing, but still spends hours daily working on the case."(There are) homeless shelters we're searching," she said.
"There's a monthly search of prisons. Coroners' offices are contacted on a monthly basis. This is definitely still an active case."Detective Jackson Ames of the Enoch Police Department, said officers are working with Davis and Dave Coan, Chris Coan's father, to follow up on leads.
~Read More~
Family Seeks Answers About Missing Son
Mr. Waits
posted 9/17/08 @ 8:32 PM MST
Someone knows something! I would like to correct that Chris DID NOT have any money with him, that there was a one hundred dollar bill still in his wallet left at home that if he was planning to leave or runaway or whatever that he DID NOT take time get stop by home and pickup this money nor his wallet nor I.D. or clothing nor his beloved backpack loaded with his favorite books even though, as the article states he had eight hours before anyone would be home and see him. This must be clarified. He disappeared with nothing, nada, zip and this is why I think someone in Cedar City knows what happened to him and is covering it up. Please don't let 13 years go by without coming forward with what information you have as in the case of Kiplyn Davis.
FindChris.org
If you are reading this, it's because you actually care about missing children and persons, so PLEASE take a moment and visit
Myspace for Chris Coan.
Even if you don't have any tips, a simple "good luck with the search" OR "You're in my thoughs and prayers," could make a world of difference to family members searching for Chris.
Previous post for Chris Coan
HERE