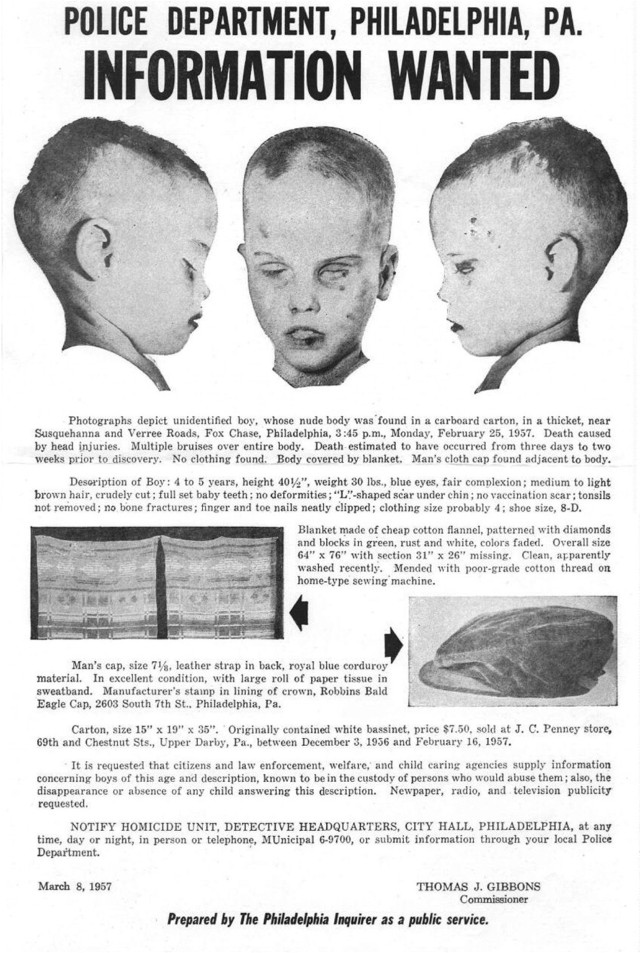 URGENT ASSISTANCE NEEDED: If you are age 55 or beyond and you knew, or remember knowing of, a young boy two years old or younger (possibly named Jonathan) in the very early 1950s, living in or within a 40-mile radius of Philadelphia, or if you are or were a physician ( perhaps now retired ) who may have treated such a boy for a condition that would have left resultant scars in the groin area and the ankles ( IV cutdowns ), you are asked to Email such information to our website address (americasunknownchild@vidocq.org). You will be contacted via Email, and your information will be held in the strictest confidence.
The "Boy in the Box" case attracted both local and national media attention when the story broke in February, 1957, and police initially assumed that the identity of the unknown boy would be determined very quickly. Hundreds of thousands of posters bearing the slain boy's image and physical description were prominently displayed throughout the Philadelphia area. They were also distributed to thousands of police departments around the country. The detectives working the case in 1957 even dressed the body in typical children's clothing and posed it in a sitting position in the hope that this "lifelike" image of the boy might cause someone to recognize him and come forward.
For thorough documentation, Please take time to go through the different pages of case history, pictures, news archives, and more at:
America's Unknown Child.