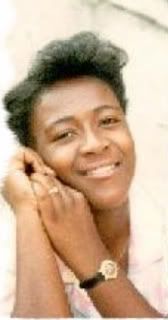 The Story of Lisa Michelle Hatchell
At 12:04am on July 19th, 2008, ALONIE WALTON said…
HERE goes the details of my child missing mystery, which happen JULY19, 2003.AT 5410 WARRENTON AVE IN PHILADELPHIA PA.
On july 21, i called tyrone henderson home to tell my daughter belated happy birthday. tyrone informed me that lisa had went out and would be back around 11pm. I TOLD HIM TO HAVE HER CALL me, he assured that he would, I then ask him why didn't they come to the family reunion, he stated that he and lisa had a terrible argument, but they made up. then ask him what did they do for her birthday. he said nothing.lisa nevercalled that nite.
On thw 22nd i called again to speak to lisa, he stated that she didn't come home last nite. but he would give her the message when he see her. i didn't feel good about the tone of his voice, so I ask him"tyrone what gone on, is lisa alright" tyrone then stated ms. walton the last time i seen Lisa she was in th epark with a drug dealer that got shot, i again ask him is lisa alright, he hesitantly stated yes.
i called back a few hour later and he stated mr walton a girl, just got burned up in a trash can in the park, and i am going to the police station to see if it was lisa. i will call you back. i stayed up all night trying to c all tyrone back, the next day around 5pm , he called and stated that no it wasn't lisa, it was a hispanic girl. again i ask him was my daughter alright, he then stated ms walton i haven't sen Lisa for about 3 weeks and that was in camden nj. that when i began to worry, because i know that i had talked to Lisa from his home, around the 14 or 15th of JULY.
I NEVER HEARD FROM TYRONE AGAIN,until this day. he stop answering his phone.
i cALLED THE district in his neighborhood, and they ask me how old she was i told them she was 42, they stated that she was in adult and had a right to leave.
In early August, Lisa father and my sister went out to the nehigbor hood , with flyers and ask the neighbors had they seen lisa, the neighbors stated yes, they remember the last ime they seen lisa, she and tyrone was having a terrible, the fight got so bad that they had tocome out a watch their cars. tyrone and Lisa return tothe house, and that was the last time anyone seen lisa.
I again called the district, abd they ask be was she in danger of hurting herself.r was she on medication, i explained tothem that she was an addict, the office then stated to me in a put down tone. miss if we wasted our time lookin for every addict or crack head, that goes missing we would't get anything else done, and he hung the phone up on me.
i continue to call and try to file a report, but for a year and a half or more they just kept giving me the run around. the only one that ever took a report was the phila. medical exaimer mr. hall. i would call him every week to see if he had any undified black jan doe.
In early AUGUST 2005, i was watching fox news and this alert came on that showed every officer in phila. arriving at cobb creek park, holing hands as they such every inch of the park looking for an hispanic female, that had a relative working for the city. i became so outraged. i got up right then and called the phila.LE and ask them how could they have every officer in phila looking for one girl, and my daughter has been missing over a year and nobody has raise on finger to find her, and this person had only been missing a few days. She said miss, you need to call back tomorroe morning and talk to some one.
I called early the next morning and got the same run around, then i call city all and spoke to some one in the commissioner office and told them my experience, they directed me to internal affairs, he took my report, and apoliged for the way i had been treated and assured me that something would be done about my daughter case. about an hour later a Det. Hines who stated she was from the short term Missing person, stated she was calling to take a report. this was in AUGUST 2005. She finally brought TYRONE in , in late october or early november, and every thing that he told her was a lie. then in late DEcember 2005, she brought him in for a polograph test, which came back inclusive. that was the last contact they had with tyrone. they neve to this day did a CSI on the home.
Later the case was moved to long term Missing PERSON, and nothing has happen on the cas e since. i WAS IN pHILA AND MET WITH the Det. miller Robinson and her captain. DOLBY. they was so crul that i felt like a second class citizen. the cap.t stated to me that maybe she just went somewhere else and died.
i have requested that they do a CSI investigation on the home, but they have not done one. now the house that used to be a one family drelling is now a duplex. tyrone has now quit his job. and no one knows where he is.
My problem with this is that if tyrone was so innocent as the LE claim he is, why haven't he come forward and stated that he want his name to stop be connected with this case, but he haven;t and i wonder why.
It is now 12:01 am , it my daughter 42 birthday and the 5th anniversary of his mystery dissapering, want somebody come forward and tell what they know, nobody just vanished with a trace.
thank for listen to me. lisa broken hearted mom. alonie
Reply by
Maggie's Rose
PUBLIC SERVICE ANNOUNCEMENT.............
Please go to this site and vote YES for Lisa Michelle Hatchell's article. What it will do is get it to the front page of this site, and may have a chance to be in their hourly news video, and possibly make it to their TV channel.
http://current.com/items/89116904_to...elle_hatchell#
Read about the case for details............
Actively Aware
Mothers Are Vanishing
Help Find the Missing
July 19th marks both Lisa's Birthday as well as the very date that she disappeared. Such a bittersweet day, I can only imagine, for all those who love her as they celebrate her birth while at the same time are constantly painfully aware of the day she went missing. In honor of Lisa, Peace 4 the Missing is dedicating July 19th as Lisa Michelle Hatchell Day. Please leave a message of support, encouragement, prayers…for Lisa's Mom and two Children who so miss her. Let's surround them with our compassion and love especially on this most difficult day.
Peace4 the Missing
Link to Printable Poster